In January 2015, Paul Otlet's heritage has fallen into the public domain. Some 80 years ago Otlet designed plans for a global network of computers that would allow people to search and browse through millions of interlinked documents, images, audio and video files. He described a networked world where "anyone in his armchair would be able to contemplate the whole of creation."
One of the online spaces where the whole of cultural creation can currently be discovered, is Europeana. A portal website guiding you to millions of old historical maps, pretty painted ladies, broadcasted art documentaries and much more. Should Otlet have lived to see this … but wouldn't he then also want to go and do things with all the beauty he could discover there? Well probably, but then we would require all these pictures, these AV snippets and texts to be Open instead of (many) Rights Reserved.
He could then go on and do marvellous things with it, twisting the uses we've known so far, hell – perhaps even squeezing some money out of it. Open does not only pave the way for creative re-use, it also helps us know what really is the (digital) original. Not ringing a bell? Dive into the issue of the Yellow Milkmaid then.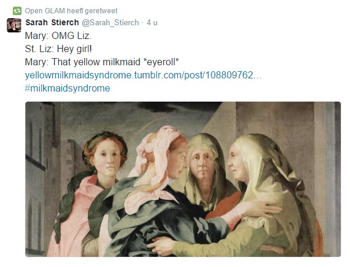 Wikimedia would also benefit greatly of a bit more cultural content that's CC-BY-SA licensed. And awareness on how to do it is increasing with the creation of GLAM-networks – Galleries, Archives, Libraries & Museums such as OKF's offspring OpenGlam. Belgium, Finland and the Netherlands each ran an Open Culture Data programme so you might think that we've more or less arrived. Alas; there are still some hurdles to overcome. I will have to invest so much time and fees into rights clearing! Maybe someone else has a brilliant money-making idea with the content I freed up and I will see no revenue! How am I going to keep (any) control?
Should Paul Otlet still be here, he might go WHAT ?! – and not see any problems in why culture still has difficulties to be(come) open. During the Open Belgium conference, the Mons' Mundaneum will talk about opening up Otlets' own legacy through his museum archive. We'll talk copyright, other hurdles and barriers, business opportunities and new possibilities on the horizon.